Lindsey Elise is an actor, baker & clothing afficianato who blogs at From Sugar With Style.
With Blissdom less then a week away I am sure there are more then a few ladies searching through their closets wondering what to pack. With only a few short days to show yourself off to the blogging community everyone wants (and should!)  look their best and wear things they feel confident and amazing in. I have put together a bunch of outfits to give you some inspiration on what to wear.
The biggest thing you want to concentrate on when choosing your outfits is COMFORT. Conference days are long and sometimes involve a lot of walking, so you don't want to be miserable in 5 inch stilettos during the day (although comfortable heels during the day are a great choice). Also rooms can get pretty chilly so wearing something on the warmer side or layers is always the safest bet. Another thing is that  you want to wear something that YOU feel comfortable in. This conference is about meeting people and showing the face behind your blog.
You don't want to feel like you are wearing somebody else's clothes.
Skinny Jeans, Jeggings ( my favorite ) or leggings are great ways to look fashionable and still be comfortable through out the day. There are so many ways you can wear them and honestly if you change up the shoes and accessories you can wear one pair multiple days and nobody would ever know! Also notice the heel of those booties are super thick which makes for easy walking!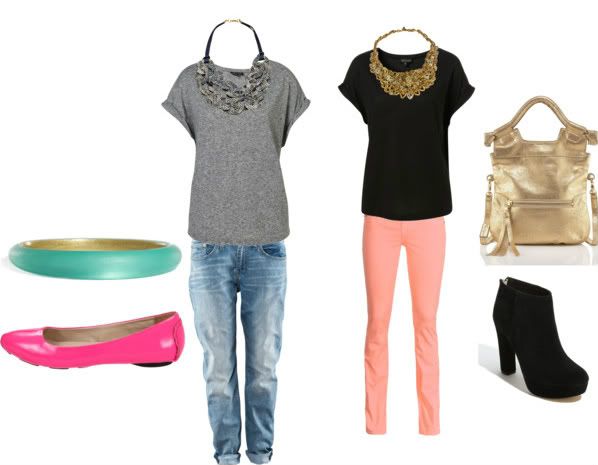 Tee shirts are my favorite staple and one that you definitely should add to your blog conference wardrobe. They can be dressed up with a skirt, worn casual with a pair of boyfriend jeans or layered under a blazer or cardigan. Nothing is more comfortable then a tee shirt and when paired with jeggings, cute flats and a bold necklace you have the perfect day outfit!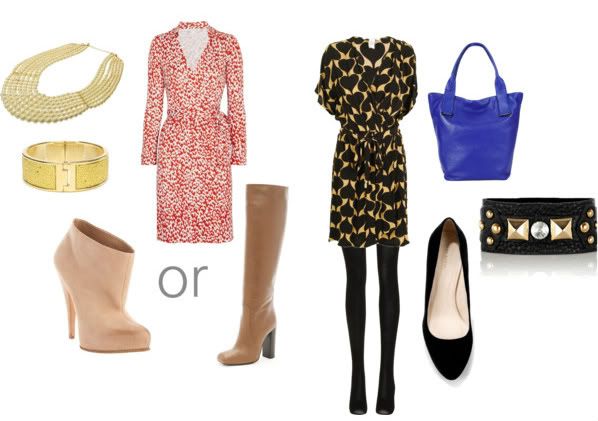 For those who want something a bit more dressy during the day or need an outfit that can transition from day to night without a lot of work wrap dresses are perfect! You can pair them with tall boots and a jacket during the day and then add some jewelry, tights and pumps for a night time look. They don't take up a lot of room in your suitcase and there are so many different options out there with different lengths and patterns.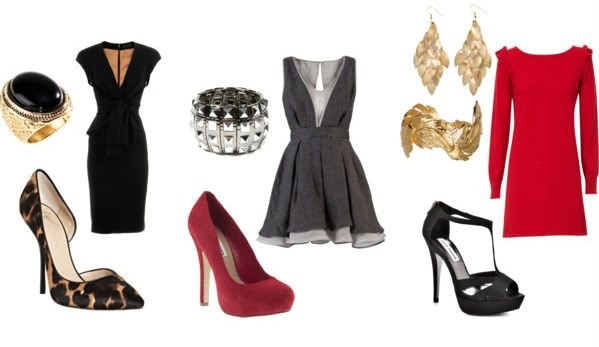 via Polyvore
There are a couple night events that call for a dressier outfit. This is where you can have a bit of fun because you know you wont have to be sitting down or walking for long periods of time. This is the time to break out the heels, the short dress, the bold color etc! I chose three different looks for different styles. The first one is more business. You can switch out the leopard pumps for something less dramatic if you want!..The second is more playful and can be dressed down a bit for a more casual affair.  and the third is a classic look that would look great on a lot of different body types and is sure to get you some compliments because of the color.
A final tip I have for you is that if you are trying to pack light, pack things all in the same color scheme so you can mix and match without having to pack 6 different pairs of shoes! I recently went on a two week Christmas vacation where I could only pack a small amount so I chose things that worked with a black grey and peach scheme and was able to created lots of outfits with a small selection of clothes. Accessories can do a LOT to change an outfit!
I hope you found some inspiration in this post and HAVE FUN at you next conference!!!
How amazing are those looks? Tell me in the comments what you would pack for a bloggy conference?